---
Performance of "Kera Sakti" by Ryuzanji Company
Kera Sakti has succesfully staged in 4 cities in Indonesia
Indonesia tour – Asia Tour
Jakarta – Yogyakarta – Magelang – Bali
Almost 1 month, Theatre Company from Japan "Ryuzanji Company" stayed in Indonesia on March. In this month, Ryuzanji Company performed its creation in 4 cities in Indonesia as a part of its Asian Tour Performance in 2016. Ryuzanji Company presented "Kera Sakti", a story tale from China which is adapted by Ryuzanji Company in Japan version and in Ryuzanji's style. This story is very famous in Asian country, especially in for Indonesian people. The performance of Kera Sakti is directed by Tenggai Amano. This show had been staged in Tokyo Japan, and in March performed specially for Indonesia and Thailand.
In Indonesia, the first city as performance location is Jakarta. The performance of Kera Sakti is performed in Teater Salihara, South of Jakarta. The first day of performance, the bleachers quite full and for the second day, the ticket is sold out. This performance had been successfully entertaining and introducing Ryuzanji Company presence to public of Jakarta. The enthusiasm of Jakarta audience is quite positive. It can be seen from the crowd of audiences who want take a picture with the actors after the show. For the Kera Sakti's show in Jakarta, Ryuzanji Company collaborated with the Indonesia local band in Punk style called Marjinal as guest star. The presence of Marjinal was surprising many audiences.
The second city is Yogyakarta. The show was held in Concert Hall, Taman Budaya Yogyakarta. This show performed only once and it got so many positive appreciations from public. In this performance, Ryuzanji Company collaborated with famous local artists; Gunawan Maryanto and Theresia Wulandari who presented the traditional story of puppet show called Ramayana. More than 500 audiences watched this show and they admitted that they are satisfied with the show of Kera Sakti by Ryuzanji Company. Then, for the next show was Plataran of Borobudur Temple in Magelang. In this place, Ryuzanji company's team had very special impression because the show was held in open space. During the preparation and a few hours before the show, the rain was fallen, however the audiences kept coming and they were satisfied with the dazzling performance. In Borobudur, Ryuzanji Company collaborated with the local community artists called "Komunitas Seniman Borobudur" presenting the local dances.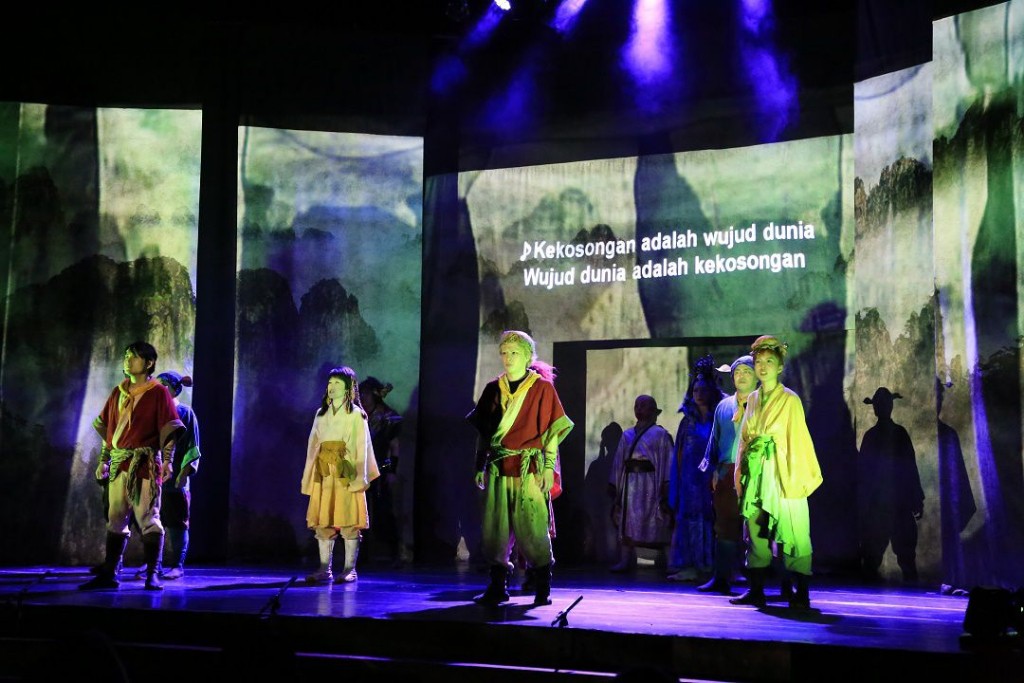 Ryuzanji Company last performance in Indonesia is held in Bali Island. In this performance, the audiences enthusiasm were unexpected. Many of them were quite curiouse and the space was inadequate. Some of them were in outside the building.
The show of "Kera Sakti" in Japan version had been entertaining Indonesia audiences in 4 cities. Grateful to Ryuzanji Company had chose ARS Management as local partner in Indonesia and also thanks to all parties involves and all the audiences watching the show of Kera Sakti.
Success for the Ryuzanji Company, success for the performance of "Kera Sakti" for the next country – Thailand!
Gallery :
Photo by Andy Seno Aji – Performance of Kera Sakti – Concert Hall Taman Budaya Yogyakarta