---
"Royo – Royo; Festival Alumni Kelola Seri Wayang Bocor"
24 October – 10 November 2019
Dia.Lo.Gue Art Space, Jl. Kemang Selatan 99A, Jakarta 12730
Royo-royo: Kelola Alumni Festival is an idea initiated by Yayasan Kelola for fundraising through its network, especially artists/ art groups who have received Kelola's art grant funds. Fundraising is carried out as one of the ways to continue carrying out Yayasan Kelola's programs that focus on the continuity of arts and cultures across generations.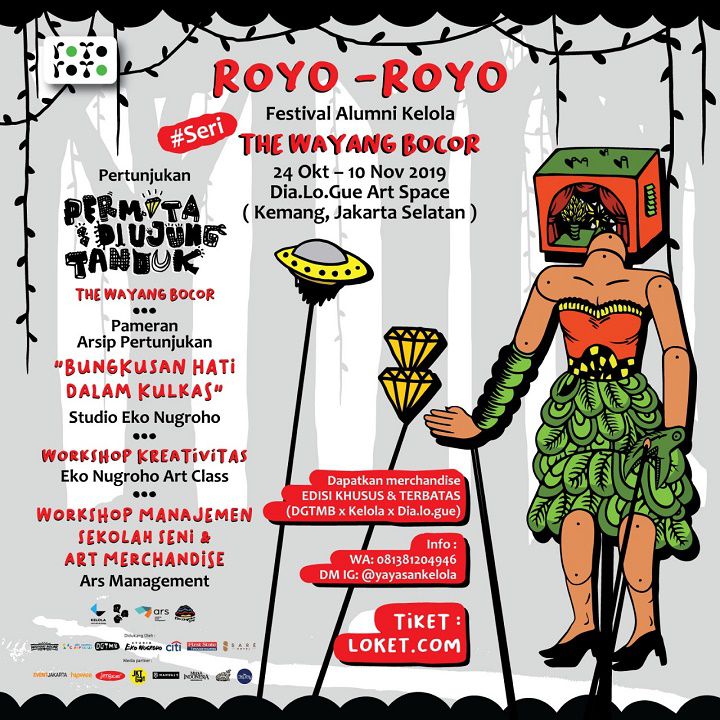 This first Royo-royo series will present alumni who received grant funds in 2008, namely the "Wayang Bocor" performance; "Bungkusan Hati dalam Kulkas" by Eko Nugroho. In this series of events, the Wayang Bocor will present their new work "Permata di Ujung Tanduk" on 24-27 October 2019.
Eko Nugroho who is currently collaborating with ARS Management for the management of several divisions of activities, including the Wayang Bocor, in this event will present other activities namely:
"Wayang Bocor; Bungkusan Hati dalam Kulkas" Archive Exhibition" by Studio Eko Nugroho, 24 October – 10 November 2019, free for the public.
Creativity Workshop with Eko Nugroho Art Class, 26 – 27 October 2019. Tickets: Rp 350,000
Management Workshop with ARS Management, 25 October 2019. Tickets: Rp 500,000
In addition, Eko Nugroho's contribution is also realized in the form of collaborative merchandise by DGTMB x Kelola X Dia.lo.gue.
All of these activities will take place in Dia.lo.gue Art Space – Kemang, a creative space in collaboration with Yayasan Kelola for Royo-royo program. All proceeds from ticket sales and art merchandise products in this collaboration will be fully donated to Yayasan Kelola. So, be a part of Royo-royo as a form of your support and donations for the sustainability of arts & culture in Indonesia. Don't miss this event!
Further information:
Ars Management (0812 2769 3838)
Profiles:
ARS Management; Creative Event Management. The focus of our work space is partnership in managing art work creation, house management, and financial management on performances and other creative events (gatherings, symposiums, workshops, tour trips, outbounds) as well as micro organization management consultancy. (arsmanagement.co.id)
Eko Nugroho Art Class is a non-formal educational institution that were established in 2015 engaged in the field of fine arts with the main values of creative, expression, and recreation. Eko Nugroho Art Class is a space for creativity exploration for children to develop their personalities. (ekonugrohoartclass.com)
DGTMB Project is a merchandise brand that produces specifically Eko Nugroho's works since 2008, which began with the visual adaptation of the Dagingtumbuh comics in the form of merchandise. (www.dgtmbproject.com)